Radium Top Feed Conversion Fuel Rails for 04-06 STi (20-0168-02) *Discontinued*
RAD-20-0168-02 Discontinued
More info below
Discontinued:
We are sorry, this product has been discontinued and is no longer available.
The 2004-2006 STi comes stock with a "side-feed" fuel rail set up. To use bigger injectors, you'll need to convert those rails to a "top-feed" setup. These rails come with a couple different spacers to accomodate various injector sizes.
Vehicle Fitment:
• 2004-2006 Subaru STi
Install Instructions:
Download PDF
Recommended for Install:
Fuel Rail Install Kit 20-0478
Full Description:
The conversion fuel rails convert the OEM side feed fuel injector setup to top feed allowing the use of high flow fuel injectors (not included). The fuel rail injector bores are 14mm ID.
Manufactured with a large internal bore, the fuel rails can support all necessary engine power requirements. They are CNC machined from solid 6061 aluminum, black anodized, and laser engraved for a high quality surface finish.
The fuel rails are compatible with all fuel types including popular alcohol mixtures such as E85.
Machined press-fit phenolic spacers are included to insulate intake manifold heat transfer. Two sets of spacers are included to accomodate popular 34mm or 48mm height universal fuel injectors from popular manufacturers.
Includes:
(2) Black Anodized Laser Etched Aluminum Fuel Rails
(4) Green Anodized and Laser Etched 22mm Injector Seats
(4) 27mm (Long) Phenolic Thermal Insulating Press-In Spacers
(4) 15mm (Short) Phenolic Thermal Insulating Press-In Spacers
(4) Phenolic Thermal Insulating Press-In Bolt Washers
(4) Stainless Steel M8x1.25 Mounting Bolts (Long)
(4) Stainless Steel M8x1.25 Mounting Bolts (Short)
What injectors can I use?
DO NOT purchase "WRX Fitment" injectors.
For this 20-0168-02 conversion fuel rail kit, 2 sets of the press-fit phenolic spacers and matching hardware are included to suit different height fuel injectors.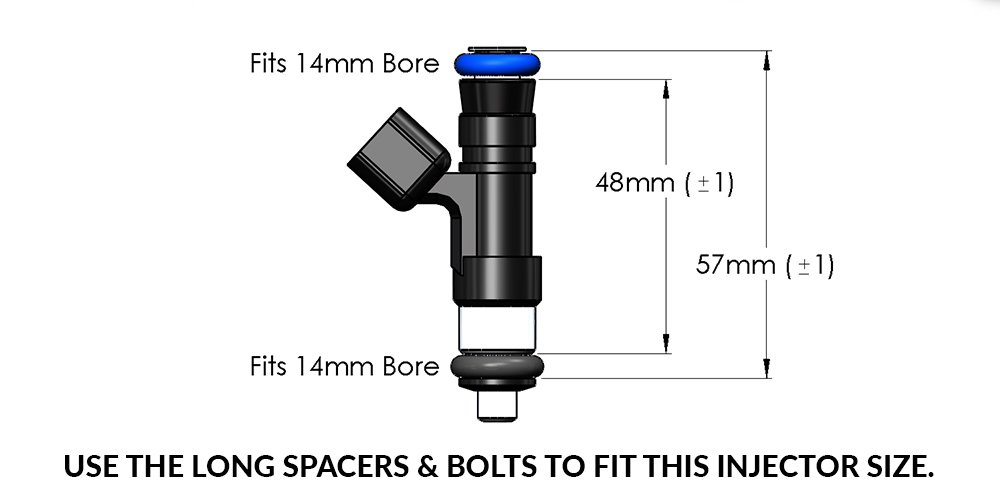 Compatible Injectors with the Long Spacers:
• Injector Dynamics ID725-48-14-14
• Injector Dynamics ID850-48-14-14
• Injector Dynamics ID1000-48-14-14
• Injector Dynamics ID1050x-48-14-14
• Injector Dynamics ID1300-48-14-14
• Injector Dynamics ID1700-48-14-14
• Injector Dynamics ID2000-48-14-14
• Evolved Injection EI550-48-14-14
• Evolved Injection EI650-48-14-14
• Evolved Injection EI850-48-14-14
• Evolved Injection EI1000-48-14-14
• Evolved Injection EI1200-48-14-14
• Evolved Injection EI1300-48-14-14
• Evolved Injection EI2200-48-14-14
• Deatschwerks 17U-00-0050-4
• Deatschwerks 17U-00-0060-4
• Deatschwerks 17U-00-0072-4
• Deatschwerks 17U-00-0095-4
• Deatschwerks 16S-12-2200-4
Compatible Injectors with the Short Spacers:
• Injector Dynamics ID850-34-14-14
• Injector Dynamics ID1050x-34-14-14
• Injector Dynamics ID1300-34-14-14
• Injector Dynamics ID1700-34-14-14
• Injector Dynamics ID2000-34-14-14
• Evolved Injection DPI550-38-14-14
• Evolved Injection DPI650-38-14-14
• Evolved Injection DPI850-38-14-14
• Evolved Injection DPI1000-38-14-14
• Evolved Injection DPI1200-38-14-14
• Evolved Injection DPI1300-38-14-14
• Evolved Injection DPI2200-38-14-14
• RC Engineering SM2-0310
• RC Engineering SM2-0370
• RC Engineering SM2-0450
• Deatschwerks 16U-00-0042-4
• Deatschwerks 16U-00-0050-4
• Deatschwerks 16U-00-0065-4
• Deatschwerks 16U-00-0090-4
• Deatschwerks 16M-00-1500-4
• Deatschwerks 16M-00-2200-4
© All content is property of STM Tuned Inc
---


If you find it cheaper, just give us a call!
(585) 226-8226


© All content is property of STM Tuned Inc
---


If you find it cheaper, just give us a call!
(585) 226-8226




---