STM Updates, Promotions and FAQ
January 2022 Shop Updates:

As always, we've got big plans in the works! Currently we are working on building an Evo 9 shop car! Check out Instagram or Facebook for updates.

It seems like a lot of parts are coming in faster and we have been over-stocking as much as we can get our hands on. We hope the covid-slow-down of the industry is coming to an end soon, but there are unfortunately still quite a few parts that have been hard to get. We do have a couple new team members helping to keep you up to date and offer options if parts are currently inaccessible.

It's still crazy though, so please give us a little extra time to process your orders as many suppliers are currently still delayed. Many in-stock orders are still shipping same-day, but if you don't receive any updates after 2-3 days, feel free to give us a shout!





Below you'll find our current promotions and discount codes and some FAQ answered.
If you have any questions or concerns, as always, feel free to Contact Us.
FREE Shipping:
To the Continental USA Only:

We currently offer free shipping on all orders over $299.00 to the lower 48 United States (excludes Alaska and Hawaii.) No code necessary.

If you apply a discount code and your cart total drops under $299, free shipping will not be activated. The total amount AFTER all discounts is what triggers the free shipping.

Exclusions apply. (Some oversize items have a flat-rate fee built in.)
Discount Codes:


Sorry, we are not currently running any sales or discount codes.


DISCOUNT CODES CANNOT BE COMBINED

We apologize for any inconvenience, but codes must be redeemed separately due to the configuration of the system. This also includes Boost Points coupons. Only one code may be used per checkout.
Parts and Brands Excluded:


Some products and manufacturers have strict pricing policies and are excluded from any discount codes.


Products excluded from discount codes:
Vendors:
• ACT
• AEM
• aFe
• AMS
• APR Tuning
• Arma Speed
• ARMYTRIX
• ARP
• ATP Turbo
• BC Racing
• Buschur Racing
• COBB
• Comp Cams
• DriveShaft Shop (DSS)
• English Racing
• ETS
• Extreme PSI
• Fathouse Fabrications
• Forced Performance
• Fortune Auto
• JM Fabrications (JMF)
• Koyo
• LithiumPros
• MA Performance (MAP)
• Manley
• Novitech
• RaceQuip
• S90
• Tactrix
• Tilton
• Unitronic
• Vorsteiner
• WeatherTech
• Weld
• Weldon


Products:
• Some large or oversized items
How do I use my Discount Code?


Only one Code can be used at checkout.



Go to your Cart:
Review/Agree with Terms and Conditions
Go to Checkout Page or verify your PayPal or Amazon Pay account.

Select Payment Method:
Go straight to Checkout with your credit card, or use your PayPal or Amazon Pay.

If you select PayPal or Amazon Pay, you'll be redirected to their page to verify your information, then back to us. It's ok to click "Continue" on their verification page, this isn't the final step and you'll come back to us to finalize the details and discounts before you pay!



On Desktop:
Split screen display will show you your items on the right and you enter your code there and proceed.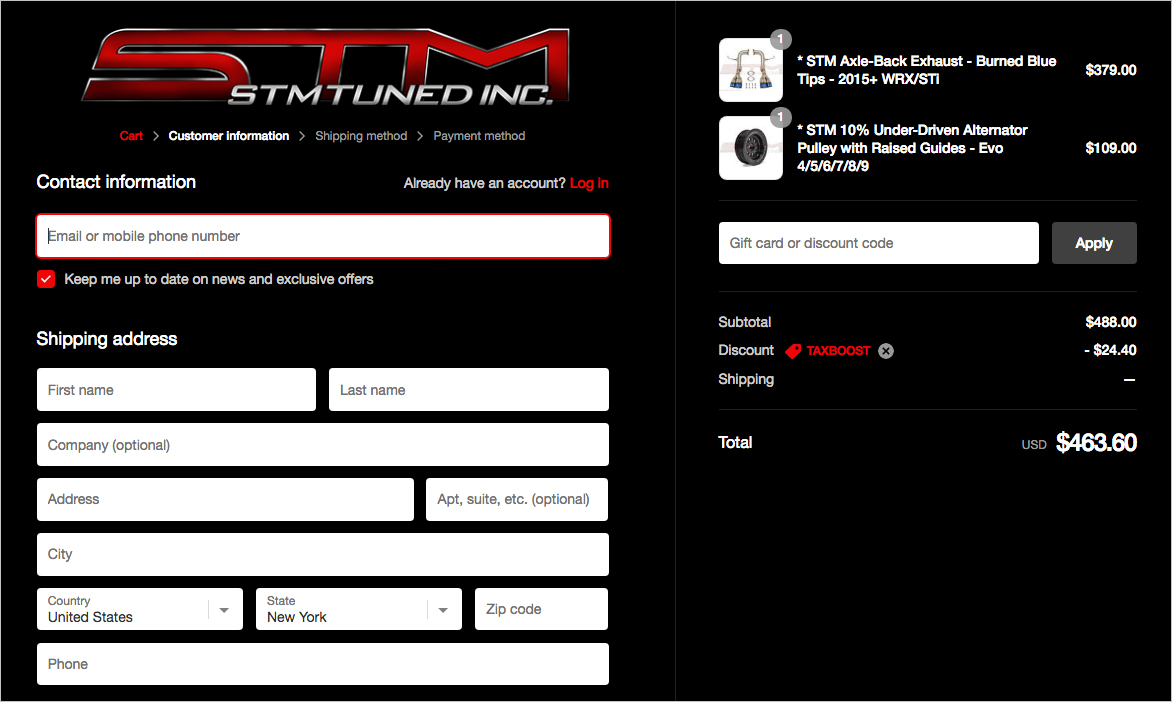 On Mobile:
If you are on a mobile device, the layout stacks. Click the "Show Order Summary" at the top to enter your code and review all items. Only one coupon code may be used at a time.






All set! If you have any questions, feel free to give us a call!