Radium Fuel Pump Hanger for Walbro/Ti Pumps for 93-98 Supra (20-0512-00) *Discontinued*
Discontinued
More info below
The Radium Engineering MK4 Supra fuel pump hanger can house one, two or three 
Walbro/Ti Automotive F90000267, F90000274 or F90000285
fuel pumps in the stock fuel tank. The fuel pumps are not included. Fuel pumps are sold separately, linked below.
*Discontinued*
As of June 2022, this part has been discontinued by Radium. We have none remaining in stock.
•
See more Supra Parts
Vehicle Fitment:
• 1993-1998 Toyota Supra
Compatible Fuel Pumps (Not Included):
•
Fits Walbro/Ti F90000267
•
Fits Walbro/Ti F90000274
•
Fits Walbro/Ti F90000285
Notes:
• Fuel pumps are not included.
• Includes mesh strainer - socks are not necessary.
• This same hanger can house 1, 2 or 3 fuel pumps in the factory JZA80 fuel tank.
Recommended for Install: (Not Included)
•
MK4 Fuel Rail
•
FPD-R
•
Pressure Gauge
•
90° Adapter for Center Port Fittings
•
Fuel Pump Wiring Kit
•
MK4 Install Kit
•
20-0223 DMR
Install Instructions:
Download PDF
Full Description:
The Radium Engineering fuel pump hanger permits the use of 1, 2, or 3 aftermarket pumps in the stock MK4 Toyota Supra (JZA80) fuel tank.
To simplify aftermarket AN hose plumbing, the 10AN ORB threaded feed port features a low profile 8AN male fitting and the 8AN ORB threaded return port features a low profile 6AN male fitting. To reconnect the OEM return and vent hoses, 8.5mm barb fittings are also included. Furthermore, no permanent modification to the OEM fuel tank access cover is required.
The custom designed stainless electrical studs easily handles the high current demand that compact bulkhead connectors lack. These serviceable connections are properly sealed and impervious to all standard and exotic fuels. The low profile design keeps all wiring tucked nicely underneath the OEM fuel tank cover using the provided foam insulation. Nylon acorn nuts are provided to prevent any accidental short circuits. Furthermore, the high quality in-tank wiring is insulated with chemically resistant PTFE. Electrical hardware is included for the fuel pump(s), OEM level sender, and OEM temperature sensor.
One issue with all Supra fuel pump hangers is the lack of fuel starvation protection. In this kit, the flow from the FPR return line powers a Radium jet pump. Using a venturi-effect, this "mechanical" pump draws fuel from outside the sub-tank and distributes it directly to the pump inlets.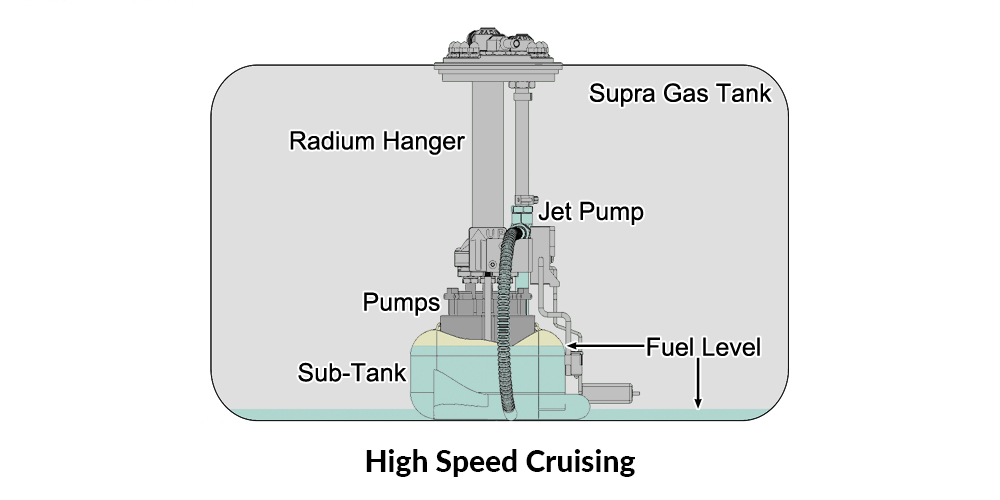 As shown, the sub-tank stays full in all driving conditions.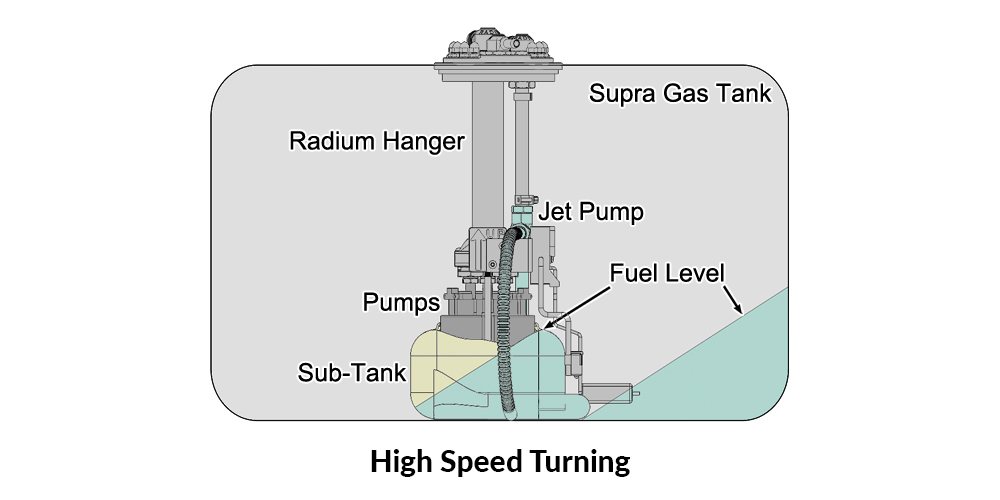 A bespoke stainless steel triple pump mesh strainer is included for proper fuel pump inlet filtration.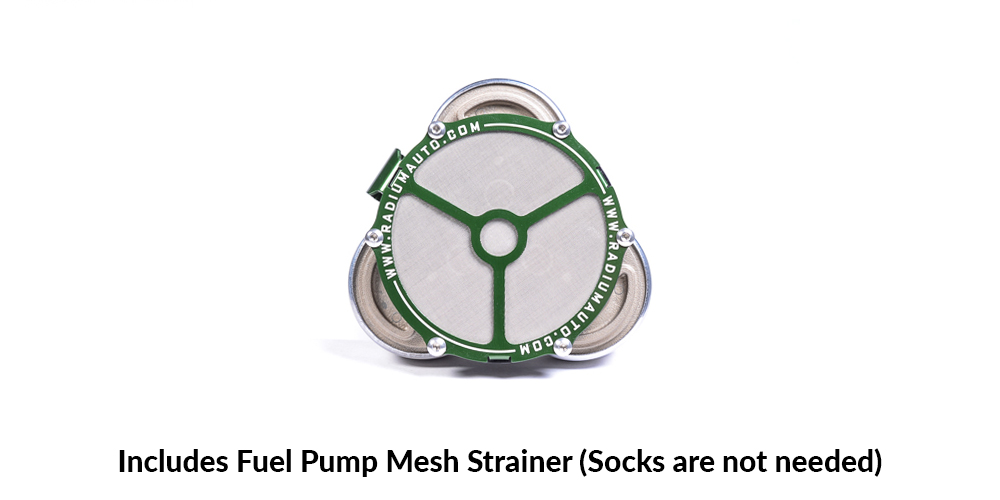 Because all compatible fuel pumps utilize integrated check valves, the pump outlets merge into a single 10AN billet collector.
Single pump applications can reuse the OEM fuel pump controller wiring, but it is recommended to upgrade the OEM wiring as these high flow fuel pumps draw additional current requiring larger gauge wire. 
Fuel Pump Wiring Kit
 (not included.)
Features:
• Drop-In OEM Replacement
• Permits 1-3 Fuel Pumps
• 8AN Male Pump Outlet
• 6AN Male Return Inlet
• Fuel Starvation Protection
• High Current Electrical Hardware
• Compatible with Various Pumps
• Anodized Aluminum Construction
Includes:
• Anodized Aluminum 8AN Male Fitting for Pump Outlet
• Anodized Aluminum 6AN Male Fitting for Aftermarket Return
• Anodized Aluminum 8.5mm Barb Hose End for OEM Return
• Anodized Aluminum 8.5mm Barb Fitting for OEM Vent
• Anodized Aluminum OEM Fuel Sensor Mount
• Anodized Aluminum Venturi Jet Pump
• Fuel Resistant Submersible PTFE Tubing
• Fuel Resistant PTFE Insulated Wiring
• Stainless Electrical and Mounting Hardware
• Stainless Steel Mesh Triple Pump Filter

© All content is property of STM Tuned Inc
---