FP Blue Journal Bearing Turbo for EJ WRX/STi
The Forced Performance FP Blue turbocharger for the EJ Subaru WRX/STi features the 73mm HTZ compressor section with your choice of 58MM stock appearing cover or 84MM Flow Advancement Port compressor cover coupled to the 8cm2 turbine section. This combo produces the best balance of spool and power available on this platform!
The FP Blue flows 57LB a minute and is capable of producing upwards of 475WHP. Internal gate Subaru turbos are available with either the stock canister style 15 PSI actuator, or you can upgrade to an 18 PSI TiAL MVI actuator. However, the MVI actuator is not available on the 84MM Flow Advancement Port compressor cover.
Vehicle Fitment:
2002-2014 Subaru WRX EJ
2004-2020 Subaru WRX EJ
FP Blue Journal Bearing Turbo:
| | |
| --- | --- |
| Compressor Wheel | 73HTZ |
| Flow Rating | 57LB per minute |
| CW Measurements | 54.8MM Inducer / 76MM Exducer |
| TW Measurements | 60.8MM Inducer / 54MM Exducer |
| Compressor Housing | 84MM FAP Cover or 58MM Stock Appearing Cover |
| Turbine Housing | FP 8CM Subaru Turbine Housing |
| CHRA | FP Journal Bearing |
| Oil Line | Included |
| FP Part Numbers | 2025050, 2025054, 2025070, 2025071, 2025074 |
Compressor Cover:
Select the 58mm Stock Appearing cover or the 84mm Flow Advancement Port (FAP) cover. The MVI actuator is not available with the 84MM FAP cover.
Wastegate:
You can configure your turbo set up for an external wastegate, internal wastgate or add the TiAL MVi wastegate.
Shipping Time: (8-10 Weeks)
FP Turbos are built to your spec. These are not in stock. Typical wait time has been 8-10 weeks.
Subaru Install Notes:
• 84mm FAP Cover requires TGV Delete to fit in stock location
•
(PDF) Oil Feed Line Install Instructions
•
(PDF) Oil Line PSA
Black Ceramic Turbine Housing Coating (+$100):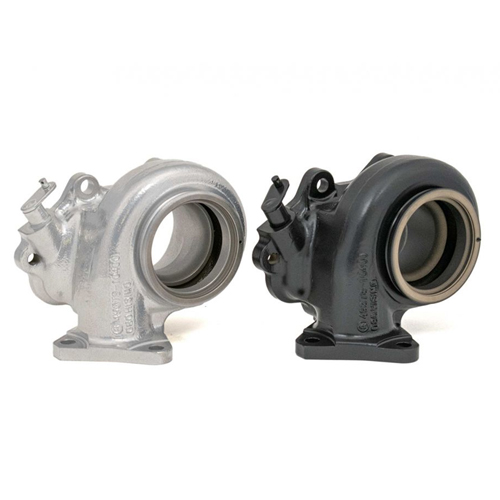 You can have your exhaust housing treated with a black ceramic coating to help keep the heat in, keeping your engine bay cooler and it will look amazing!

See more Forced Performance Products
© All content is property of STM Tuned Inc
---


If you find it cheaper, just give us a call!
(585) 226-8226


© All content is property of STM Tuned Inc
---


If you find it cheaper, just give us a call!
(585) 226-8226




---