Fortune Auto 500 Series Gen 8 Coilovers for F8x M3/M4
FA500 Gen 8 Coilovers for the BMW F80 M3 and F82 M4 models come with the default spring rates for everyday drivability and occasional track use. Custom spring rates are available by request. The F8x coilover system includes the Swift Spring upgrade and front endlinks separate style rear for 3 or 5 bolt strut.
Fitment varies by model and year, please choose your application carefully in the purchase menu. Photos are for reference, new pics coming soon! Please note FA only lists fitment for the F82 2014-2018 models. F83 convertible fitment is NOT listed.
Part Number:
Fitment:
Front Spring Rate
(Default):
Rear Spring Rate
(Default):
FA500-F80M
2014 M3 F80 (3 Bolt Strut)
18k
16k
FA500-F80M15
2015-2018 M3 F80 (5 Bolt Strut)
18k
16k
FA500-F82M
2014 M4 F82 (3 Bolt Strut)
18k
16k
FA500-F82M15
2015-2018 M4 F82 (5 Bolt Strut)
18k
16k
Shipping Times: 4-5 Weeks
Hand built to your specs! Fortune Auto Coilovers are built to order. Lead times for certain applications and peak season orders may vary.
Application:
For everyday drivability and occasional track use.
Custom Rates Available by Request:
(Please leave a note at checkout)
4k 5k 6k 7k 8k 9k 10k 11k 12k 13k 14k 16k
Discounts:
We are sorry, discounts are not available with Fortune Auto products.
More from Fortune Auto:
Fortune Auto engineers were tasked with a focused goal to make the Generation 8 FA500 Series dampers the best single adjustable system on the market at a very affordable price. All systems are completely hand-built, insisting on building bespoke suspension in order to offer the best quality control in the industry.
Fortune Auto approaches the science of suspension with a mentality of customization that has raised the industry's standards of performance.
• FA Synthetic Shock Oil
• Flow Digressive Technology
• Custom Built and Dyno Tested
• Modularity: Upgradeable to 2-Way Canister
• 24-Step Adjustable Dampers
• Monotube Damper with High Pressure Nitrogen
• T6 6061 Aluminum Mounts and Camber Plates
• Rebuildable and Revalveable at the FA Facility in Richmond, VA
• 5 Year Limited Manufacturer's Warranty
Everyday Drivability:
Research on the racetrack has helped us develop the Fortune Auto 500 Series into a great all-around shock absorber. Using high quality components that meet our strict standards allows us to optimize comfort, reliability, and longevity.
Occasional Track Use:
Digressive piston technology allows for stiff low-speed compression/rebound force. This gives more control of driver inputs such as roll, dive, and squat. However, at fast stroke speeds (i.e. high speed bumps) the suspension becomes supple in response to bumps and irregularities in the road for maximum control.
Spring Rates:
Default rates are listed in the purchase menu, if you'd like a custom rate, please leave us a note on checkout, or give us a call to decide what springs are best for your racing goals!
Image representation:
Images are for quality representation. Each coilover will vary by model.
Bright Dip Anodized:
Bright dip anodizing is a chemical polishing/anodizing process that is very effective in enhancing the integrity of the aluminum. Bright dipping creates a brilliant, shiny surface which protects our 6061 forged aluminum parts from corrosion and oxidation, ensuring that your parts look great for years to come.
Radial Bearing Mounts:
The high-quality Koyo Japan radial bearing provides less bind for noise-free operation and smoother steering response.
Back-Milled Aluminum Components:
Aluminum components on the Generation 8 series coilovers are designed for optimal efficiency by maximizing weight savings without compromising integrity.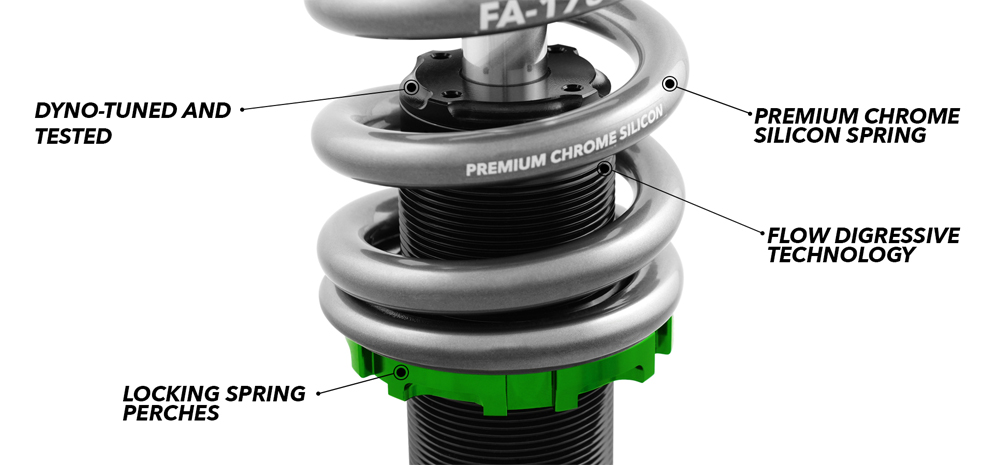 Dyno-Tuned And Tested:
EVERY Fortune Auto shock absorber is dyno-tested. Once your shock absorbers are built, they are tested and matched, because we refuse to treat our shocks with a "one size fits all" mentality.
Premium Chrome Silicon Springs:
The Generation 8 line of suspension is equipped with a new standard spring. Made in the USA with a special premium alloy that offers superior performance, longevity, and ride quality.
Flow Digressive Technology:
Flow Digressive Technology allows for tremendous amounts of low speed force that translates driver inputs into razor sharp control. Furthermore, the force "blows off" to provide the driver with a supple compliant ride while maintaining superior mechanical grip over rough surfaces.

See more Fortune Auto Products
© All content is property of STM Tuned Inc
---