EXEDY Twin Organic Clutch Kit for Evo X (MM062SDF)
The EXEDY Twin Organic Clutch Kit for the Evo X models features the two sprung, organic discs that can handle about 500 WHP and are still great for street or city driving. Organic discs provide lasting durability and smooth clutch engagement.
Vehicle Fitment:
• 2008-2015 CZ4A Evolution X
Why do I need a twin plate clutch?
Multi plate clutch kits (Twin & Triple Disc) simply put have more than one clutch disc. The stock clutch comes with one disc and by having two or three discs, you essentially double or triple the surface area to be clamped. If you are like most Evo owners, you have probably doubled or tripled your power... so you need to compensate with a more powerful clutch. There will also be intermediate plates between the discs and especially with the Triple kits, when you push in the clutch pedal, you'll hear those plates rattling around free. That's totally normal and fun to mess with your friends.
Features:
• Street / Race
• Purple Anodized Forged Aluminum Clutch Cover
• Pull-Type Design
• Organic Sprung Discs
• Rated for 500 WHP
MM062SDF Twin Organic Evo X Clutch Kit
Notes
Hyper Twin Organic Clutch
Sprung Center Disc
Pull Type Cover
Clamp Load
2652
Disc Diameter (Inches)
7.9
Disc Diameter (Millimeters)
215
Kit Contents
CM06H, PP02, IM01, FR01, FM59, BS05, BS01, PR01, DM39DA, DM39DB and Alignment Tool
Spline Count
23
Spline Size (Inches)
1-1/16
Spline Size (Millimeters)
26.2
Torque Capacity (ft/lbs.)
553
Completely Rebuildable!
Check the link below, we have all the options you'll need when it comes time to rebuild!
Need rebuild parts?
•
EXEDY Clutch Rebuild Parts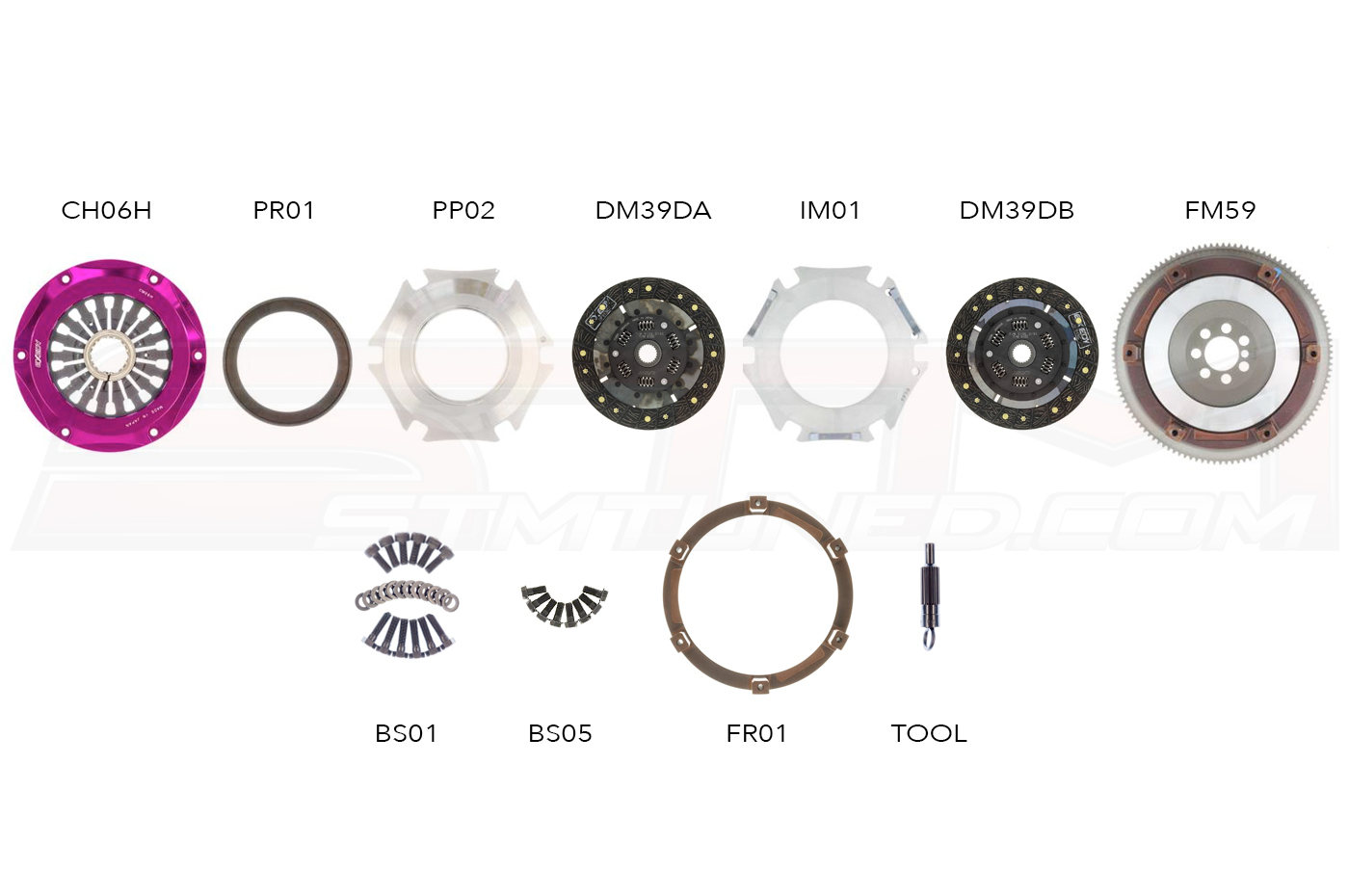 © All content is property of STM Tuned Inc
---


If you find it cheaper, just give us a call!
(585) 226-8226


© All content is property of STM Tuned Inc
---


If you find it cheaper, just give us a call!
(585) 226-8226




---
Best Clutch
Got this clutch after the old one gave up. The performance of the clutch is extremely good and the feeling is so smooth.
10/10 best clutch so far.