Radium Dual External Pump Fuel Surge Tank (Horizontal Mount for Bosch 044) (20-0052-00)
The Radium Horizontal Mount Dual External Pump Fuel Surge Tank (FST) is designed to hold two Bosch 044 pumps and sits only 4" tall. The volume of fuel inside the surge tank acts as a buffer to always keep the FST pump supplied with fuel. The fuel pumps and install options are sold separately, linked below.
Vehicle Fitment:
• Universal Application
Install Instructions:
Download PDF
Full Description:
A fuel surge tank (FST) is designed to prevent fuel starvation to the engine on vehicles with inadequate fuel tank baffling. The FST fuel pumps feed the fuel rail(s). The volume of fuel inside the surge tank acts as a buffer to always keep the FST pump supplied with fuel. This volume is maintained by the main fuel tank's pump as well as the fuel returning from the fuel pressure regulator. Excess fuel in the surge tank is returned back to the vehicle's main fuel tank.
The surge tank also provides a quick and easy way to upgade any standard fuel system with a compact size. This is an excellent fueling solution for vehicles installing large demand power upgrades such as forced induction.
Both of these dual-pump configurations are ideal for high powered V or H configured engines with dual fuel rails. The anodized 6061 billet aluminum clamps and FST mount directly to the powder coated aluminum plate using stainless countersink bolts. Unlike others on the market, these clamps conductively transfer the fuel pumps thermal energy to the chassis increasing fuel pump longevity. Each pump has a dedicated vapor shield hose that draws fuel from the bottom of the FST.
NOT COMPATIBLE WITH AEM 50-1005 or DW350iL pumps.
Includes:
• Machined 6061 Aluminum 1.5 Liter Canister
• Removable Billet 6061 Aluminum Caps
• 6AN Male Fittings
• Adapter Fittings for specified Fuel Pumps
• Billet Aluminum Pump Clamps
• Aluminum Mounting Bracket
• Stainless Steel Hardware
Dual External Pumps, Horizontal FST:
The Horizontal FST is only 4" tall which is ideal for many applications. Hose ends and E85 compatible rubber hose are included to connect the pump inlets to the surge tank ports.
The 2 fuel pump pickups are located at the bottom of the FST. The top port is used for the fuel return back to the main tank.
4-Port Manifold: (Linked Below)
When plumbing a single hose to the engine, Radium offers a machined aluminum manifold that merges the fuel pump outlets together into a single AN fitting. For the Bosch 044 pumps, there is 20-0463 that retains the Bosch check valves. This is necessary if the two fuel pumps will be staged. Also available to run without the check valves.
What else do I need for install?
• You need two
Bosch 044 Fuel Pumps
.
• You will need a 4-Port Manifold.      
20-0063
(Delete Check Valves)      
20-0463
(Allows Check Valves)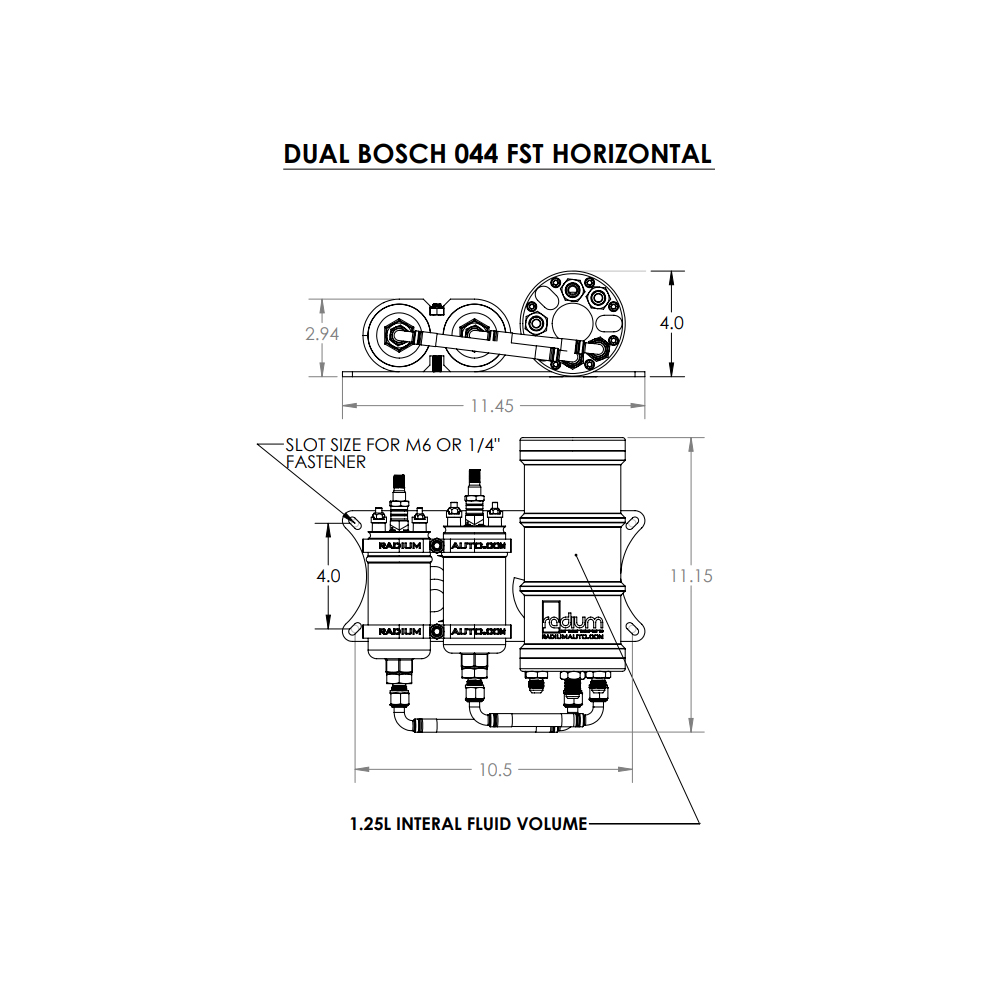 © All content is property of STM Tuned Inc
---


If you find it cheaper, just give us a call!
(585) 226-8226


© All content is property of STM Tuned Inc
---


If you find it cheaper, just give us a call!
(585) 226-8226




---